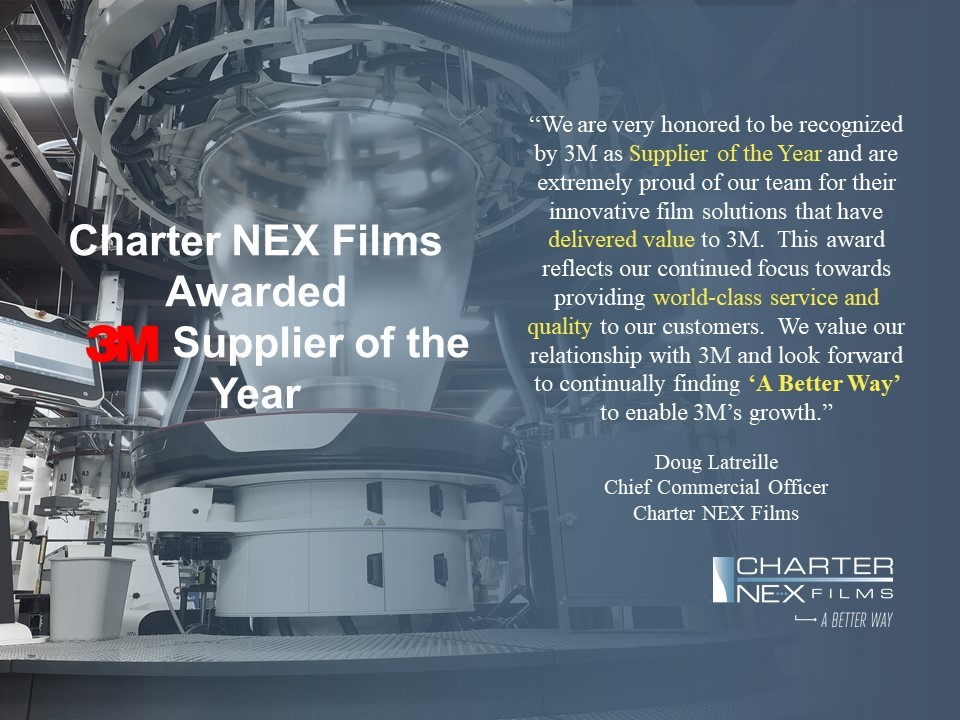 St. Paul, MN – June 5, 2019 – Charter NEX Films, North America's leading independent producer of specialty films, was honored with the 2019 3M Supplier of the Year Award in recognition of the company's contribution to improving 3M's competitiveness.
This year, 3M recognized 13 suppliers, among thousands in its global supply base, for world class performance in providing products and/or services. These suppliers were identified and rated based on strategic spend, contract compliance, actions taken to improve 3M's relevance and overall supplier performance (quality, delivery, responsiveness, cost, and technology roadmaps). An awards ceremony will be held June 20, 2019 at the 3M Innovation Center.
"We are very honored to be recognized by 3M as Supplier of the Year and are extremely proud of our team for their innovative film solutions that have delivered value to 3M.  This award reflects our continued focus towards providing world-class service and quality to our customers.  We value our relationship with 3M and look forward to continually finding 'A Better Way' to enable 3M's growth," said Doug Latreille, Chief Commercial Officer, Charter NEX Films.
"Supplier collaboration is critical to supply chain success," said Debora Fronczak, vice president, 3M Strategic Sourcing. "We are fortunate to work with great suppliers who are committed to fostering a relationship with 3M.  These partnerships help us to serve our customers with innovative and valuable solutions. It's important that we recognize our most outstanding suppliers, and that's what this award is all about."
About Charter NEX Films, Inc.
Charter NEX Films is North America's leading independent producer of high-performance, specialty films used in flexible packaging and other end-use markets.  Our manufacturing capabilities are world-class and we are proud to provide you an unsurpassed level of quality and expertise.  Our exclusive focus on film and relentless pursuit of excellence make us the ideal partner for all of your film needs – from monolayer to multilayer, blown to cast, and breathable to barrier.
About 3M
At 3M, we apply science in collaborative ways to improve lives daily. With $32 billion in sales, our 91,000 employees connect with customers all around the world. Learn more about 3M's creative solutions to the world's problems at www.3M.com or on Twitter @3M or @3MNews.
Charter NEX Media Contact:
Doug Latreille
(608) 868-5757
3M Media Contact:
Caroline Evans
651-733-4298